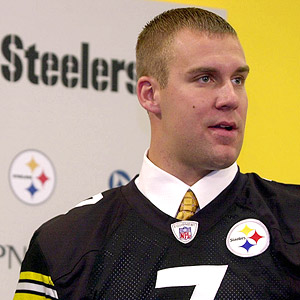 The Steelers did good but not great without their star QB Ben Roethlisberger but now he's back, hide your college daughters gone wild Cleavage, I mean Cleveland will be his attempt to bounce back from his suspension. I'm picking the Steelers, with or without Ben they are better than Cleveland. This should be an easy comeback game for Berger.
Seattle @ Chicago: I pick Chicago they are the better team, Seattle is a roller coaster team and they really only look good at home, and a lot of that goes to the acoustics of their stadium and their unreal loud fans. Seattle will look horrible today against the Bears in Chicago.
Miami @ Greenbay: I originally picked Miami with Aaron Rodgers possibly being out of the game and the Greenbay defense looking very poor this year. With Rodgers back at the helm I'm going with the Packers.
San Diego @ St. Louis: I'm taking St. Louis at home. The Chargers have looked confused this year as if they don't have an identity. The Rams on the other hand have looked a bit brand new behind Sam Bradford. If my 49ers can't get it together, the Rams should win the division without a problem down the stretch.
Baltimore @ New England: this is a tough one, especially with the Randy Moss trade, but I'm picking New England. I feel like they have something to prove, most people have counted them out now that superstar Randy "Straight Cash Homie" Moss is gone. Brady won 3 SuperBowls with average WRs and just spreading the ball, I think they are going to get back to that. The Ravens are the better team in this match up but I'm sticking with the Patriots at home. Random fact: Today's Tickets for this game have Randy Moss as the featured player on them.
Detroit @ New York (Giants): The Giants hands down. Their defense has show up as of recently. The Lions have a high powered offense behind Shaun Hill but I believe that only works against average defenses. I don't see them getting lose against the Giants, unless rookie Jahvid Best goes nuts like he did at the beginning of the season before getting injured, but I doubt it.
Atlanta @ Philly: I'm going with the Falcons 100% even picked them as my Streak for the Cash entry. Even though the Falcons almost lost the Saints and almost lost to the winless 49ers, I think the Falcons are probably the best team in the NFC (with Michael Vick being sidelined). I wish Vick was healthy for this match up, I would love to see him torch his old team. Kolb isn't going to get it done. They will probably use this game to help shop him for a trade pending Vick being healthy enough to play again.
New Orleans @ Tampa Bay: I'm going with the Buccs. They haven't figured out their running game but their young QB Josh Freeman has looked great this year. New Orleans has a Madden curse looming over their head and all the black magic and voodoo in the NO can't compete with Madden. This will be an interesting game but the Saints aren't who they were last year.
Kansas City @ Houston: The Houston team confuses me, I'm not sure if they are good or bad, however Kansas City has been surprising this year, maybe they had an easy schedule or played teams that underestimated them, who knows. Matt Cassel is a talented QB, I think he will lead them to a win in this game. KC just has to stop Arian Foster. The Chiefs
New York (Jets) @ Denver: Denver has looked decent at times and Orton has looked surprising and so had Brandon "former Niners & Skins failure" Llyod. But the Jets hands down will win this game, they have one of the best defenses and I don't think Denver will even look as decent as they did in their 17 to 31 loss against the Ravens. The Jets should be able to stop them and run all over them all day.
The Battle of the Bay aka Oakland @ San Francisco: Two great NFL franchises that haven't been trying to get it together since the mid part of the last decade. The Raiders won a big game last week in thei division. The 49ers are 0-5 and having internal battles and implosions that have all been made public. I think the 49ers will win this game, they have more on the line. Alex Smith should play like he did in that 4th quarter after his teammates stood behind him and told the coach they wanted him in the game and he told the coach that he wasn't coming out of the game. He's fighting for something...his career, but he has the respect and belief from the captains of his team that he can get it done. The 49ers will win this game and celebrate like just clinched the division. As long as the rest of the team plays their roles and the confused people in this pictures below can get it together, this should be a win that won't go down to the wire.
Dallas @ Minnesota: The Vikes should rip Dallas a new one, but it will be a game won in the 4th Quarter. This game will have a lot of offense, but I think it will be won on defense. I only say that because Bret Favre is a gunner and Tony Romo makes mistakes. A fumble, interception, or holding call will win the game for the Vikings today.
SNF
Indianapolis @ Washington:

I've been impressed with the Redskins, their defense has played tough and McNabb has made some great passes, recently the running game has gotten a new face. If Washington can run for 120+ yards they could win this game. But Peyton Manning is a drill sergeant and I don't think he's going to lose this game, so he won't make it easy for the Redskins. I'm not a believer in Indy's defense but I will say it is better than the defense of the teams the Skins have beaten so far. I'm taking the

Colts

for the win but pulling for the Skins. I think this will be a very interesting game, possibly the highest rated of all the games this week.
MNF
Tennessee @ Jacksonville: Tennessee
without a doubt. Both QBs are average with semi-explosive moments to me, but this game will be won on the ground and the Titans have the best ground game in this match up. Chris Johnson should have 100+ yards and a couple of TDs in this game. This might not even be a game I would watch all the way through, unless a fantasy win depends on it.