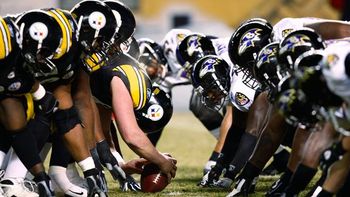 Had a busy week, a busy day, and this weekend will be even more busy, so here's my quick rundown on my picks for week 13.
First of all last week we got a preview of some possible NFC Playoff/Championship Match Ups with the Eagles vs. the Bears and the Packers vs. the Falcons. This week we are getting the same but even more important from the AFC. With the current standing in the AFC South and AFC West its most likely that the wild card teams will be from the North and East with that being said. Patriots vs Jets on MNF is a huge game, the best record in the NFL at 9-2, and after this regardless of winner or loser they will still be in the run for the playoff with a great record.
I'm taking the Patriots over the Jets on MNF. I like both teams but the Patriots seem more solid.
This big game for the Marylanders this week would have to be other divisional rival/playoff preview of the two teams tied at 8-3 which is the 2nd best record in the league. This is the 2nd time the Ravens and Steelers meet. The first time Big Ben was serving his suspension. This time Big Ben has a broken foot but plans to still play. For that reason I'm going to take the Ravens.
The Ravens offense has been stronger this year, but the defense hasn't always looked as solid, but I think they can beat the Steelers. Hopefully this will be a hard hitting and exciting match up for Sunday Night. Hopefully for both playoff bound teams they don't get too many key injuries that they can't heal from before the post season.
I picked Philly over Houston, I made sure I announced this on Facebook and Twitter so that no one would say I switched my pick after the game, since I knew that I wasn't going to post these picks last night. It was a back and forth game, but in the long run my Thursday pick was right again.
New Orleans over Cincy - Cincy should be playing for a 1st round pick now... Batman & Robin can return to the Batcave...
Chicago over Detroit - No need to explain
San Francisco 49ers over Green Bay - Thats my squad. This was be amazing, a miracle, a huge win for us. But its not impossible. It will come down to turn overs and Special Teams, mark my word. By the way I practically called that win and score for last week, I said 21-6 it was 27-6 and that Crabtree TD should have been overturned.
Jacksonville over Tennessee - who knows... I don't trust Tennessee though and Jacksonville ALMOST won that game against the Giants last week like I predicted.
KC over Denver - Denver is flip floppy, KC knows that they could win the division but with San Diego so hot right now they can't afford to slip up anywhere.
Cleveland over Miami - this is just an upset I'm choosing. Cleveland has been playing decent football, I don't trust Delhomme, but Miami hasn't been solid. Cleveland it is.
Buffalo over Minnesota - this is another upset I'm picking. Both teams have had bad years, and if Adarin Peterson doesn't play Minnesota might have a tough day. They will get points but I don't think they will be as deadly as they need to be. Buffalo has been playing good football against better teams.
Washington over New York - I jumped out the window with this one. But hey you gotta do that sometimes. I'm not going to talk about it anymore, because I might change my pick if I think about it more.
San Diego over Oakland - The Raiders got hot, now they are luke warm. The Chargers are on Fire and they are 95% healthy now but all their weapons are on the field. I don't think the Chargers will lose anymore of their games this year, but I will pick against them when they face the 49ers out of faith and loyalty for my squad.
Indy over Dallas - The Colts need to get it together, I think they can do it this week at home, it will be a tough one though. Dallas is showing that they can be that team we assumed they would be. Close call.
St. Louis over Arizona -The Rams are the better team, Arizona just got beat at home on MNF and they will get beat at home again on Sunday.
Seattle over Carolina - I would love if Carolina won this game to help move the Seahawks down the NFC West standings but Carolina just hasn't been able to get anything going.
Tampa Bay over Atlanta - The Buccs are due for this win. The last game was in ATL and it was close and down to the wire. I think they will pull this one off. Atlanta is due for a loss as well. But this will be their last lost for the season, the rest of their schedule looks like a cake walk, unless they start to sit starts to keep them healthy for the playoffs.