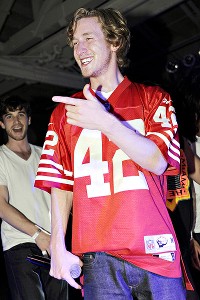 Asher Rother wrote an article for ESPN about how similar his career and Alex Smith's career has been. I'm still not convienced that Alex Smith is the end all be all, but he seems to be managing the offense better this year. So if he can continue to do that and a rookie can learn the system on the bench behind him I think the future will be bright. Asher also goes down a brief timeline of being a 49ers fan. I believe he is a bit younger than me based off of the timeline that he gives, but much like me he was raised in a NFC East town and choose to send his fanship to the West Coast Bay Area. The link to the full article is below and a few quotes that stood out to me.
"Raised close by the sports-crazed city of Philadelphia I had no choice but to become a devoted fan. As attractive as it was to root for Rodney Peete, Bobby Hoying and the Detmer Bros. it wasn't enough to uproot my allegiance to my father and his love for Bill Walsh. Both with ties to Stanford and an admiration for the West Coast Offense, I inherited a 49ers ballclub and a Jerry Rice jersey before I even knew how to play the game."
"I vividly remember watching Terrell Owens and "The Catch II" to finally beat Brett Favre in '99. The miraculous comeback to beat the New York Giants in the 2002 wild-card game was witnessed in the Oxford Valley Mall food court and then … that was it. After watching Jeff Garcia complete 68 percent of his 6-yard passes, I was forced to root for the likes of Tim Rattay, Ken Dorsey, Cody Pickett (I liked rooting for Cody), Trent Dilfer, Shaun Hill, Chris Weinke, J.T. O'Sullivan and Troy Smith. Ugh."
"And of course, Alex Smith. Ask any of my college buddies. I have a soft spot for Mr. Smith. Drafted No. 1 overall in '05 out of Utah, he came into the league around the same time I was pursuing a rap career. I was a sophomore in college and was being "scouted" by "talent agents" while Smith was taking the starting job from Rattay. Smith had a productive year under Norv Turner, and I signed a record deal with a hit single. Here we go. Ups and downs, lefts and rights, B, A, B, A, select, start. Seven offensive coordinators in seven years and never a head coach that really spoke the language. It was a direct correlation to what was happening in my professional career. Sure we had the talent, sure we had the wits, but for some odd reason it was not translating. The losing seasons weren't all our fault but it sure felt like it. Lines were crossed. Something was off."