This week I'm going to do it a little different, it seems like the majority of the games are highly favored to one team this week so I'm only going to touch on a couple of the games. My Spotlight game is one that looks like a AFC Playoff game in the makings, The New England Patriots travel to Pittsburgh to battle the Steelers. Earlier this week ESPN (AFC East Blog) spotlighted this game as well but spoken like a fan they named the article "
Why Tom Brady Owns the Steelers
" where they laid down valid points and stats about past games and why the Steeler have a 1-7 losing record against Tom Brady. Also they mentioned points about no matter how great the Steelers defense is playing that Brady single handedly pulls them apart.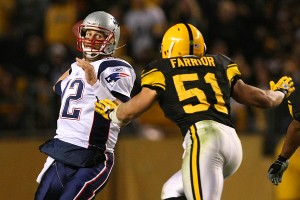 I'm a believer in Brady, I believe he is the best QB in the league right now (with Aaron Rodgers pulling at his coat tail). I also believe that at their primes he's better than Peyton Manning, but I'm not going to argue that point because it would go on for days with no resolution. But with all that said I'm completely going against Vegas and ESPN and picking the getting hot Steelers to win this one at home. Why? Man I just got a feeling. The Patriots are good this year, but they are flawed, they have shown vulnerability. The Steelers are my 2nd least favorite team in the NFL, but I think they will make the needed adjustments so that Brady doesn't make them look like the Miami Dolphins.
I'm also Picking The Eagles at home to win over the Cowboys. I have a feeling that this will be a mistake heavy game and the game will be won on the ground and not through the air like most people probably believe. The Eagles have a stronger ground game and their defense might actually be coming together after all of these weeks.
San Diego Chargers over Kansas City Chiefs at home. I believe the Chargers have the better offense but for some reason it doesn't seem like they have been able to put it all together this year, but I think they will step it up to hold their grown in the division.
I'll also take Cincy over Seattle in Seattle. Now most people probably don't care about this game. Cincy on the low has proven to have a solid defense this season, not sure if that will take them anywhere with a Rookie QB, Rookie WR, and RB running from the law in a division with the Ravens and the Steelers, but it will win them some games. Seattle is considered one of the toughest places to play, the noise level in Detriot caused multiple offsides and bad snaps for the past few weeks, Seattle is that time 10 for every game. I'm sure it has to be the accoustics in the stadium, I can't believe a Seattle team would have more rowdy fans than any team that has actually been winning the past few decades.
Thats All Folks, if any of the other upsets win, just know that I didn't pick the underdog this week (minus the Steelers).
Have a Happy and safe Halloween