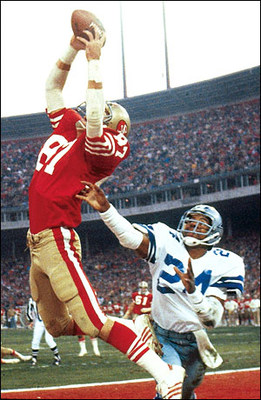 Maybe I'm reaching with one of them, but hey I'm a fan. Plus I've heard several other sports analyst make similar predictions about that Renewed Rivalry game between the 49ers and the Cowboys.
GAME OF THE WEEK
Philly over Atlanta - Honestly, Vick could lose this game for the Eagles if he gets caught up in the emotions of being back there as a starter or trying to get revenge, but this new Michael Vick doesn't seem to be that type of guy. I think he will be poised and play a great game. This game will be determined by the defenses. If Philly studied what kept the Falcons wings clipped last week they can win this game without a problem.
Buffalo over Oakland - I'd rather see the Raiders win this one, but the Bills look pretty explosive last week, and West Coast teams tend to have a bad record playing the 10am PST game on the East Coast.
Detroit over KC - KC stunk last week, I need them to do better (fantasy football reasons). But Detroit aren't who we thought they were. Detroit's defense might be nice this year.
Tampa Bay over Minnesota - I don't think the Vikings are put together well right now. Tampa Bay has potential.
Chicago over New Orleans - The Bears looked great last week, as did the Saints. I just went with an underdog here, hopefully it works out for me.
New York Jets over Jacksonville - Does anyone think differently?
Pitt over Seattle - Do I need to explain this. Forget the Pitt ya'll saw last week, yeah their defense is old, then need a lil more Bengay than most units, but I'm sure that they well get their legs back for this game.
Washington over Arizona - I'm picking this based off of the Skins looking good against the Giants and the Cards defense allowing Cam Newton to get silly on them last week. Hightower might have a career game and a lot of receptions.
Green Bay over Carolina - The person who picks against the Packers in this game and win is paid for life. But this aint Vegas and I'm not gambling so I'm picking the logical pick for this one.
San Fran over Dallas - The QB with the least mistakes (leading to turnovers) will lead his team to victory in this game. If the game is flawless, and the Special Teams of the 49ers doesn't "do it A-Ginn", then the Cowboys have the best chance to win. But I don't see this being a flawless game and I think Romo will make the most mistakes. 49ers win, 28-27.
Cincy over Denver - Eh... who cares. I closed my eyes and picked this one.
Houston over Miami - This is a toss up to me, but I think Houston has a better offense and a stronger running game to control the clock.
San Diego over New England - I wasn't impressed by the Patriots defense allowing a mediocre team to almost score at will, so I believe that a team with a strong running game and passing game should be able to make the game a lot closer than the game was in Miami. On top of that a team with a much better defense should hold Tom Brady to a 200-300 yard game. Chargers win by 4.
St. Louis over New York Giants - Eh... both teams seem to be injured right now, I wouldn't bet my money on either of these teams in this game. I went with the underdog for this one.