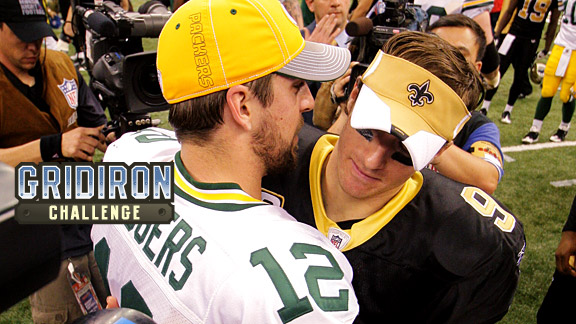 And tonight, it begins... The NFL Season has returned, the offseason was short, the offseason deals were compounded into a week of pure excitement. Super teams were created, great teams stayed the same but got healthy, mediocre teams are still trying to figure it out, and Peyton Manning will miss a start of a season and a game for the first time since the 90's.
The past few years have been all about the Quarterback and what better way to start the season than to have the past two Superbowl MVP QBs to face off in what we hope to be a high powered shoot out.
ID: 25761 Password: winning
Packers over Saints - This game could go either way I'm picking the Packers based off of homefield advantage, no injuries, and because they have the least changes to their team from last year.
Falcons over Bears - This isn't a give me either, but I just trust in the offense of the Falcons more than the Bears and their questionable WR Core.
Browns over Bengals - This game doesn't even sound interesting, but the Browns have less change to their team from last year and that team was decent. The Bengals sucked last year with super stars, now they have no one, so I'll let you figure that one out.
Chiefs over Bills - The Chiefs proved last year that they can be a contender, the Bills never seemed like they could finish games. Chiefs win by two scores.
Eagles over Rams - I pick the Eagles to win this because the have to win this game. The Dream team can't lose any games to the NFC West, a division that was all .500 and under last year. This might be a playoff match up for January...
Lions over Buccs - I went back and forth with this pick, but Stafford is back and healthy, the Lions have an offense that can put up numbers and their defense had Tom Brady shaking in his Uggs.
Titans over Jaguars - Both teams are suspect but the Jaguars dropping Garrard made this pick for me. The Titans have a better running game and a veteran QB that beat the former Superbowl Champs in the playoffs not long ago. Titans all day.
Steelers over Ravens - I'd rather the Ravens win but when Big Ben is in the game against Flacco on the other side, they haven't had much luck.
Texans over Colts - No Peyton and the Texans are a pretty good team, so I pick the the Texans. If Peyton doesn't travel with the team then this might be an easier win than I'm predicting. If the Colts are smart they will have Peyton at every game mic'd up talking to Kerry in his ear every play.
Panthers over the Cardinals - This is just one of the underdog picks I decided to take a chance with. I'm not sure if either team really knows who they are yet so defense and special teams might decide this one. I'm not a believer in Kolb.
Chargers over Vikings - The Chargers just have a better team on paper than the Vikings. They didn't lose many and didn't have to make many changes. They are healthier than last year so I expect them to be stellar this year if they remain that way.
The San Francisco 49ers over Seahawks - Tavaris Jackson is my reason for this pick. Sike nah, I'm a Niners fan, I think we had a good team last year, we have a better coach this year and a couple more targets for Alex Smith. I would feel better with someone else under center but with the short offseason Alex knows the team the best at this point. Seattle still needs some time to get things together, I don't think they are completely sold on their QB situation as of yet.
Giants over Redskins - Its 9-11, its written in the book of (NFL) life for the New York Football Giants to win this game. I think this game will come down to the 4th quarter and Sexy Rexy making an error large enough to put the nail in the coffin. The Skins still have some bugs to work out but their schedule looks easy enough for them to do so in the first few weeks. This game will help to point out things that need to change.
Jets over Cowboys - This doesn't have as much of a 9-11 will be the reason for the NY team winning feel to it, but I just don't think the Cowboys will play comfortably until half of the season is gone. Romo was gone for practically a whole season, he will have some kinks to work out on top of the kinks he had before.
Patriots over Dolphins - Just because they are the Patriots and we know who they are, who are the Dolphins?
Raiders over Broncos - The Raiders were undefeated in the AFC West last year for a reason. The team is fast and high powered, the other teams in the division aren't really built to keep up. The Bronco's defense is old and the Raiders seems to be able to run the ball with anyone they put in the backfield as well as air it out pretty well.
Thats all for today folks. Tomorrow I'll post my Fantasy Football lineups.