Ok, I did this
last year
so I'm going to do it again this year. I will get my predictions for the two local teams, then get my prediction for my favorite team as a fan and logically thinking. Last year I predicted the Ravens at 10-6 or 12-4 at best, they finished at 12-4. I projected 7 wins for the Redskins, 9 if they got lucky, they ended up with 5. As for the 49ers logically I gave them 6 wins, as a fan I gave them 10, they shocked the world and ended with 13.
Lets start with the league as a whole and playoff projections.
I will take the Patriots, Ravens, Texans, and Broncos as AFC divisional winners (again) with the Chargers and Bengals getting the Wild Card. Its tough not to pick the Steelers, but I think they are getting old, we saw signs of this last year and I think it will continue this year.
As for the NFC Eagles, Packers, Falcons, and 49ers winning their divisions with the
Giants*
Bears and Saints as Wild Card teams.
AFC Championship Texans and Ravens, NFC Championship Packers and Eagles.
I think the Super Bowl will be Texans and Packers, with the Texans winning it all.
However I would love for the Super Bowl to be 49ers and Ravens. Eagles vs Texans would also be an interesting Super Bowl just because it would be a QB vs his old backup, if they both make it though the season.
*please note, I didn't change the Giants because of the opening game results, but because I think the NFC East has one of the toughest schedules in football this year and the division winner will likely win by one game and/or thanks to having the best record in divisional matchups. I'm picking the Eagles to win that division with 9 or 10 wins. The Bears, Buccs, and Lions will have more wins than the #2 team in the NFC East so one of them will be granted the Wild Card Spot*
Let's start with the Redskins, I think they have made a lot of good steps forward to build their team, not sure if they will completely reap the benefits this year but I do think they will be noticeably better because of it.
Washington Redskins
at Saints - Loss. The Saints have a lot to prove right now and will likely be operating on all cylinders, this game could get out of hand. Also right now I can only compare RG3 to Cam Newton, and the Saints seem comfortable dealing with him as an opponent.
at Rams - Win. This won't be as easy as it would have been last year but it will be a win.
Bengals - Loss. The Bengals could actually win the AFC North they are a dangerous and young team on both sides of the ball.
at Buccaneers - Loss. This one was tough, I think the 2010 Buccs will be back. Close game though.
Falcons - Loss.
Vikings - Win.
at Giants - Loss. The current champs have a chip on their should about getting beat twice, don't think it will happen at their house this year.
at Steelers - Loss.
Panthers - Win. Defense will win this game.
Bye
Eagles - Win. Good win coming off the bye to an Eagles team that would have just gotten beaten up by their previous 3 match ups.
at Cowboys - Loss. Flipped a coin.
Giants - Win.
Ravens - Loss. I'd rather see the Redskins win this game of all the games.
at Browns - Win.
at Eagles - Win. Playing the spoiler. Also beating the Eagles twice puts them in the Super Bowl automatically, lol.
Cowboys - Win. Still playing the spoiler and knocking the Cowboys out of the Wild Card spot.
That's an even 8-8
, I think even if they flip flop some of those wins they will finish 8-8 or 7-9 in a very tough division and playing against a very tough divisions in the AFC North and NFC South. The beginning of the season will seem like a roller coaster but they will finish strong to give more hope for the future.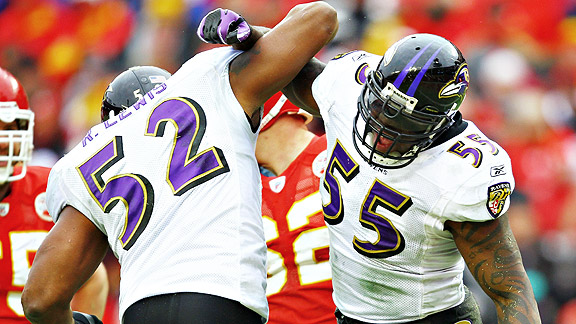 I think the Ravens will miss Suggs, and Ray Lewis will start to show some signs of his age. He will still be effective and a great motivator for his team but they will have to rely on some other people for the big plays, mainly the offense. The better the offense plays the more rest Ray Ray gets.
Baltimore Ravens
Bengals - Win. Tough game played to the wire.
at Eagles - Loss.
Patriots - Win.
Browns - Win.
at Cheifs - Win.
Cowboys - Win.
at Texans - Loss. With a healthy Matt Schaub.
Bye
at Browns - Win.
Raiders - Loss. Random loss to a team who will be high powered in their ground game.
at Steelers - Win.
at Chargers - Win.
Steelers - Loss. I just feel like they will split the games this season.
at Redskins - Win. Like I said before, I'd rather see the Skins win this one.
Broncos - Loss. Peyton full steam ahead.
Giants - Loss. This game will help secure the Giants as a Wild Card
at Bengals - Win. Winner of this game wins the division.
That puts them at 10-6, I think at best they could end up 11-5
, but the AFC North will be won with in one game, likely that last game between the Ravens and the Bengals. This actually looks like a fairly easy schedule for the Ravens but I do think to win these games it will have to be the offense instead of the defense carrying them.
Here we go the 49ers who won 13 games last year and everywhere I look I'm reading that they got the easiest schedule along with the Patriots. Then I'm reading that history shows that they won't win more than 9 games coming off of that 13 win season. Personally based on some of the flaws that I noticed last year we have a tougher season this year. Last year we only faced one QB considered "Elite" in Eli Manning and we faced an injured Big Ben. If Ben was healthy and could plant his foot on some of those throws a few holes might have been exploited in the defense. In the off season we addressed secondary and receivers, the main issues that held us back last year.
San Francisco 49ers
at Packers - Loss. Packers got a lot to prove and I think we still have some getting used to when it comes to our new weapons on offense. I don't think it will be a high scoring game like the 49ers/Saints game ended. It will more of a better defense vs a better offense and a below average offense vs a below average defense. The kickers will have fun and Rodgers will have to use his feet to get in the endzone due to coverage.

Lions - Win. SNF Prime Time win at that.

at Vikings - Win.

at Jets - Win.

Bills - Loss. Seems like a weird loss, I know. The Bills defense will be nice and they will be heavily under rated as a whole. I'll just say this will be the one that got a way.

Giants - Win. Revenge, plus we aren't losing back to back at home.

Seahawks - Win. Hard hitting game, but the experience of our defense and offense will hold strong.

at Cardinals - Win.

Bye

Rams - Win.

Bears - Loss. Traditionally great defense and a more high powered offense, this will be a tough game.

at Saints - Loss. Sorry to say, but revenge game in the Super Dome sounds dangerous. Brees is still one of the most dangerous QBs in the game.

at Rams - Win.

Dolphins - Win.

at Patriots - Loss. Cold December Night... Doesn't sound like a good look for the boys from the bay.

at Seahawks - Loss. That stadium has never been a good place for the 49ers to play.

Cardinals - Win.
So not completely picking as a fan I gave the 49ers a 10-6 season and winning the NFC West. As a fan, I'd add two more wins out of the Elite QB games that were picked as losses (Packers, Bears, Patriots, Saints), most likely the Bears and Packers. I'd also probably add a random road divisional loss and take that Bills game at home as a win. So as a fan I'm saying 12-4, logically I'm saying 10-6 or at worse 9-7.