Before the season started I posted
John Clayton's QB Rankings
which I could say are very easy to agree with based on what we knew about the individuals. In a similar list but definitely in a different order
Mike Sando from ESPN has listed his MVP Watch
based on the players that have been the most valuable to the success of their team after two weeks. Its a bit early to crown anyone but its interesting to see some new names at the top of the list. Below is his top 10, mainly QB's but one LB made the list. It's good to finally see the 49ers #1 pick finally starting to pan out. First time with the same Offensive Coordinator for more than one season, first time with multiple legit receiving weapons, and a Coach that is fully backing him. Its amazing what a good supporting cast will do for a player with potential.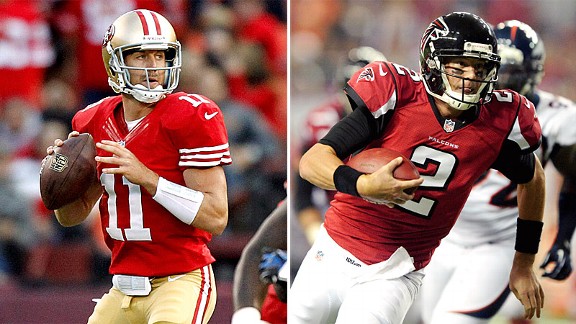 Quarterback | Atlanta Falcons ...
Next Game
: 9/23 at SD ...
Last Poll
: 3
Ryan has set a quick early pace while leading the Falcons to a 2-0 record. He leads the NFL in Total QBR by a wide margin thanks to five passing touchdowns, one rushing touchdown, two sacks and zero turnovers. He has never finished a season with 30-plus scoring passes or a completion percentage higher than 62.5. His quick start and the Falcons' overall strength put Ryan in position to enjoy a career year both in production and team success.
Quarterback | San Diego Chargers ... Next Game: 9/23 vs. ATL ... Last Poll: NR
Rivers makes his 2012 debut on the list. He ranks second to Christian Ponder in completion percentage (73.8) and has led the Chargers to their first 2-0 start since the 2006 team won its final 10 games to finish 14-2. A home game against Ryan's Falcons provides Rivers with a stage to prove he belongs on this list, and possibly higher than fourth. Trips to Kansas City and New Orleans await from there, part of a road schedule that appears manageable for Rivers and San Diego.