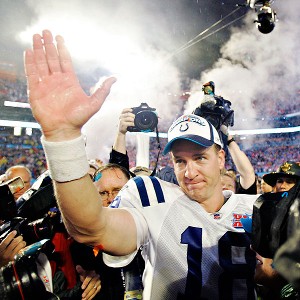 Ok as of 12:00pm 3/7/2012 Peyton Manning is no longer a Colt. It seemed like it was going to happen but its still hard to believe that it happened. The question now is where to go? Can he win a Superbowl with another team or will he just come up short? What's the best fit for him? Does he need star WRs, will he take Reggie Wayne with him? Does he need a warm weather team or a team in dome? Does the money even matter to him? Can he be the first Elite QB to win a Super Bowl with one team then win another with a new team. Kurt Warner, who wasn't even elite when he went to another team, came the closest to doing this with the Rams and the Cardinals. But remember he left the Rams as a backup and was a backup with the Cardinals at first as well, so this is a different situation. You have to compare this Manning situation to Joe Montana (49ers to Chiefs), Joe Namath (Jets to Rams), and Johnny Unitas (Colts to Charger).
According to Adam Shefter at ESPN the "Final Four" teams for Peyton are the Redskins, the Jets, the Cardinals, and the Dolphins. Out of that crew I'd shoot for the Dolphins. Here's my least likely to most likely breakdown.
Redskins
- Not sure the fans want another Vet QB experiment, plus what would happen to that system that they were always talking about, Kyle would have to let Peyton just run things. Not to mention Peyton would face Eli twice a year and maybe a 3rd time in the playoffs. That would be good for TV and sales, but Peyton seems too family oriented to want that type of public rivalry on a constant basis. If it happens its because Snyder has deep pockets.
Jets
- Maybe...but does he want to have that two year battle with Brady, both QBs are accustomed to winning their division this would throw a huge wrench in the game plan. Plus what happens to former 1st rounder Mark Sanchez, do they bench him for a couple years to learn behind Peyton or do they try to trade him, can they get any value from a trade for him? This could happen though, I think the weather and making NY a two Manning town might influence him to go elsewhere. But this has more chance than the Redskins to me.
Cardinals
- First off, I don't want this to happen! My 49ers finally get it together and then we gotta face Peyton twice a year. This could add some struggle to our next 2-3 years. For Manning this is a great location, its warm, he can run the city, and he has Beanie Wells & Fitzgerald to help him and possibly help the Cards get over that hump. Downfalls, facing a tough 49ers, sack happy, defense twice a year when everyone says you are "one hit away". Also this is still the NFC so 2 games against Eli a year is very possible. I don't think that will effect the decision as much as it would in DC.
Dolphins
- Still in Brady's division but you are in a warm beautiful place called Miami. A team that is in need of a QB and a team that is still fairly new as far as talent and coaches. Doesn't everyone want to take their talents to South Beach? Brandon Marshall is good WR that can be great with a great QB, Reggie Bush can catch out of the back field to help prevent Manning from getting sacked as much. The defenses in the AFC East seemed mediocre at best last year, so it might be a safe place to play.
Some other teams that I would keep on the radar are the Seahawks, Titans, Texans, Jaguars, Chiefs, Broncos, 49ers, Rams, and pretty much anyone else who isn't the Patriots, Saints, Chargers, Giants, Eagles, Steelers, or the Packers have a slight chance at surprising people with a big on Peyton.
Seahawks
- Need a QB. They have decent WRs with potential plus the beast Marshawn Lynch.
Titans
- Hasselbeck is nice, but Peyton would be a better vet QB to teach their rookie.
Texans
- They are almost there, Schaub has been good but injury's slowed him down, if the Texans can trade him to say...the Redskins to link him back up with Kyle Shanahan and "the system", the Texans would open a spot at QB for Peyton and would be immediate Superbowl Contenders. Adarin Foster, Andre Johnson, Peyton Manning...whoa.
Jaguars
- They need a QB. Peyton and MJD plus maybe a tag along from Reggie Wayne to go a long with some of the decent WRs that have potential on their team. They could be a force to be reckoned with. Plus it would give him a chance to save a franchise, almost Drew Brees like.
Chiefs
- Yeah they got a couple good QBs, but they have a lot of weapons in place that a QB like Peyton Manning could easily assist them in winning their division next year, and not an 8-8 division winning record either. Healthy Jamaal Charles plus Dwayne Bowe, Steve Breston, and emerging star Jonathon Baldwin. Thats 4000 yard season easily each year in his contract in a very weak division.
Broncos
- How do you shut fans up about Tebow Mania you bring in Peyton Manning. Tebow who? Why wouldn't John Elway want a QB that is more of a traditional style QB to lead his team. Tim Tebow took them to the second round of the playoffs, WWPD?
49ers
- The team seems to be coming together the defense and special teams can win games, Alex Smith had a decent year with less errors, an elite QB could take the team to the Super Bowl without a problem. Well wait there is one problem, no WRs to throw to. Josh Morgan might be back, Ted Ginn should be back, Crabtree will be there. You got some speed, but none of these guys are #1 WRs. Peyton would need to bring Reggie Wayne with him or the 49ers would have to make a huge play at a Free Agent WR to make this appealing for Manning. The other thing, Jim Harbaugh was a QB, he lost his job because the Colts drafted Peyton and even though Peyton stunk his first year, he went on to be the greatest Colt of all time. That being said it would make for a good "full circle" story but who knows if these guys even get a long. Not to mention that Jim Harbaugh as a former QB likes to puppeteer his offense and has claimed that Alex Smith is his guy. I think this situation is least likely but it has to be brought up due to the lack of a concrete QB. But as a fan I think that if the Cardinals or Seahawks go after him, then the 49ers need to be active in that bidding process as well.
Rams
- Why not? Sam Bradford has potential but we haven't seen it all yet. He's has rocky moments and injuries. He has great potential, but didn't they say that about Alex Smith the frist few seasons? If you can get an elite Hall of Fame QB to take your team over the top or continute an experiement that hasn't gotten you to the playoff yet, then that might be the way to go. But I also don't think this is that likely, I also don't think they will draft a QB, probably trade their pick to get more 1st rounders.
Ok I'm done, my favorites are the
Chiefs, Jaguars, Dolphins, and Texans
in that order. It would be smart to make some Vegas bets on division winners before he goes to his next team and hope you pick the team that he goes to.
At 4pm Peyton Manning is official a free agent, let the bidding begin!